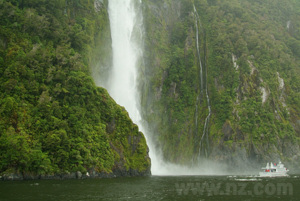 Cruise Milford Sound
Cruise the idyllic waters of Milford Sound and admire the magnificent scenery up close. Catch views of dolphins, penguins and seals basking on rocks. Milford Sound is the most famous and accessible of the glacier carved fiords in Fiordland. Deep blue waters, cascading waterfalls, sheer cliffs, dense rain forest, towering mountains and fascinating wildlife; it's all here waiting for you.
Most cruises also offer a visit the Milford Sound Underwater Observatory as part of their package.
Day Cruises
A variety of daytime cruises are available for visitors to Milford, on vessels ranging from the very large to the small. Launches travel down the south side of Milford Sound, out to the Tasman Sea and return up the north side, stopping off at all points of interest. Cruises feature commentary on the flora and fauna of the Sound and on most either hot meals are provided or lunches can be purchased.
Overnight Cruises
Twilight is a magical time at Milford Sound, and its yours to enjoy as you cruise throughout this magnificent fiord. Launches cruise out towards the open sea before anchoring in sheltered cove. Experience the fiord at your own pace as you kayak around sheltered bays, explore the shoreline in a tender vessel, go swimming in the fresh water or simply sit back and unwind. An on-board nature guide will be on hand throughout the cruise to answer all your questions and give interesting commentaries about this spectacular fiord.
Cruises anchor for the night in Harrison Cove, and provide a variety of sleeping cabins on-board the launch. In the evening, retreat to your private cabin, or settle back and enjoy the company of fellow passengers.
See a complete list of Milford Sound cruises, sailing & water options.
This week's featured cruises in Milford Sound are:
Featured Milford Cruises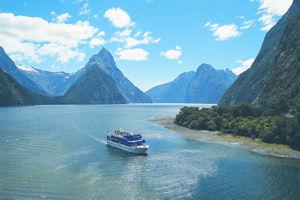 Day Tour - Queenstown - Starting from NZ $200 per person

A day excursion to one of the world's greatest natural wonders. Enjoy a spectacular day in the Fiordland World Heritage Park culminating with a cruise of famous Milford Sound. More...
---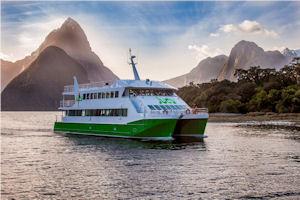 Sightseeing Cruise - Milford Sound - Starting from NZ $129.00 per adult

Welcome to JUCY Cruise Milford Sound coach tours - an amazing journey that will take you into spectacular Fiordland National Park, a stunning Milford Sound Boat Cruise and an experience of a lifetime. More...
---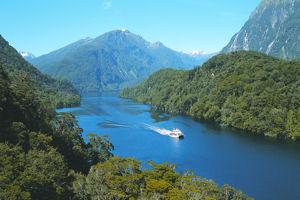 Multi-day Coach Tour - South Island

A three day tour offering the best the South Island has to give. Travel to Mount Cook, Queenstown, Milford and Dunedin before returning to Christchurch More...
---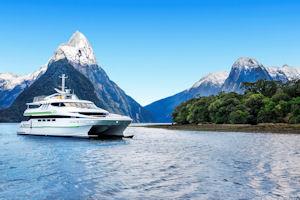 Day Cruise - Milford Sound - Starting from NZ $79.00 per person

Join us aboard Milford Sound's only glass roof vessel and marvel at one of the most stunning places on earth. The Gem of the Sound offers a Milford Sound experience like no other, with unique glass roofs, large viewing decks, stylish booth seating and much more! Take in the stunning scenery from the sun kissed top deck, or laze in the lounge as HD cameras project live outdoor footage onto TV screens throughout the vessel. Scenic flight and coach connections are available too! More...
---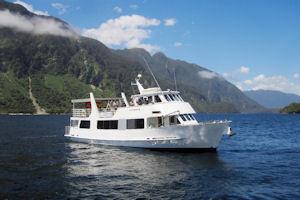 Overnight Cruise - Doubtful Sound - Starting from NZ $450 per person

Your Doubtful Sound overnight cruise will leave you in complete awe of the outstanding views of untouched beauty, wildlife and the serenity of your experience. Includes a freshly caught and prepared seafood dinner, fishing, kayaking and transfers to and from Manapouri or Te Anau. More...
---
Tour Milford Sound

Tour Milford Sound Area
Milford Sound Overnight Cruise - Fiordland Discovery
- Cruise.
Fiordland Discovery offers a scenic overnight boat cruise around New Zealand's iconic Milford Sound. Guests can enjoy...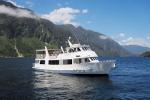 Fiordland Expeditions Overnight and Extended Cruises
- Overnight Cruise - Doubtful Sound.
Starting from NZ $450 per person
.
Pack your overnight bag now and join us on a jaw-dropping cruise on Doubtful Sound. "Paradise" is never far from our...