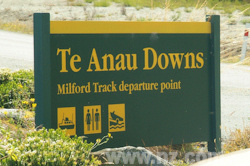 Milford Track
Milford Track is one of New Zealand's oldest and most famous walks.
Length: 54 kilometres
Days required to walk: 4
Accommodation: 3 public huts, 3 private lodges
Highest point: 1073m
Can be guided: Yes. Guided walkers stay in private lodges
Track condition: Excellent
Track popularity: High. Bookings are essential
Difficulty: Medium, some tramping experience recommended
Opened to tourists in 1889, Milford is considered New Zealand's most famous track, commonly known as "The Finest Walk in the World", a phrase attributed to poet Blanche Baughan. Due to its popularity, the track may be walked in the direction from Lake Te Anau to Milford Sound (South to North) only, preserving the isolation of the experience.
Starting at the head of Lake Te Anau, the Milford Track follows the Clinton River to its source, crosses the McKinnon Pass at 1073 metres (3520 ft) above sea level, and continues down the Arthur Valley to Milford Sound. During the summer season (late October to early April) boat transport at either end and bus connections to and from Te Anau or Te Anau Downs are available. The 53km track takes four days. The track can be enjoyed as a guided walk, staying in comfortable lodges with hot showers and all meals provided, or for independent walkers, well appointed Department of Conservation huts are provided as camping is not permitted.
Walkers on the track to Milford Sound encounter Fiordland at its most spectacular. The route follows the Quintin and Arthur Valleys which are separated by the MacKinnon Pass. These U-shaped valleys were carved by glaciers during the last Ice Age which ended some 14,000 years ago. On a sunny day there is a postcard shot around every corner, but only when it rains, and torrents of water cascade down the steep mountainsides, have you truly experienced the magic of the Milford Track.
Sutherland Falls
The Sutherland Falls are an excellent side trip to the trek. Officially the tallest waterfall in the country, it is certainly the most magnificent. Three tiers cascade water 580 metres (1900 ft) directly out of Lake Quill, and its average width is 27 metres (89 ft); photos cannot adequately convey its size. Towards the end of day three there is a turn off to the falls. You can leave your pack at the public shelter, and the side trip is about 1 1/2 hours return.
| | |
| --- | --- |
| Tour Milford Sound | Tour Milford Sound Area |